Original Waist Trainer
Regular price
Sale price
$59.99 USD
Unit price
per
Sale
Sold out
Sizing

If between sizes, we recommend sizing up for the best fit.

SIZE
WAIST GIRTH (inches)
XXS
21.6-25.6
XS
24.4-27.5
S

27.5-30.7

M

30.7

-33.8
L

32.3

-35.4

XL
33.8-37.4
2XL

35.4

-38.6

3XL

37.4

-40.5
4XL
39.4-43.3

5XL

41.3-45.3

6XL

43.3-47.2
Achieve your ideal silhouette!

Slim your waist by wearing it only 15 minutes daily!

Eliminate muffin tops and love handles
Back Support
Sculpt your body
Why you'll love it

Boost Your Confidence

Our Baddie Shapewear will help you feel more confident of who you are, not because you need it, but because it makes you feel great!

Lose Inches Instantly

When wearing tight-fitting dresses that hug your body, shapewear will help you stop worrying about your tummy. It will gently create a slimmer waist.

Get Your Dream Body

Our body shapers helps you stay motivated and supports your weight-loss journey. It instantly creates a better-proportioned figure for you.

Dress To Impress

Times when you had to limit your wardrobe choice due to your figure are OVER! If you want to look your best and have everyone turning their heads, our shapewear will do wonders for you.

Helps With Postpartum or BBL

After giving birth or the surgery, the muscles may be sore, weakened, or overused. Shapewear can help you feel more supported throughout the day.
Shipping

Shipping usually takes 7-15 Business Days.

Processing the order takes 1-3 Days.

Orders over 70$ have FREE SHIPPING.

Standard shipping is 4.99$
Hassle-Free Returns

We offer Hassle-free Returns for 60 days. If there's ANYTHING wrong with your order, please let us make it right!

Please contact us at: hello@curvybaddies.com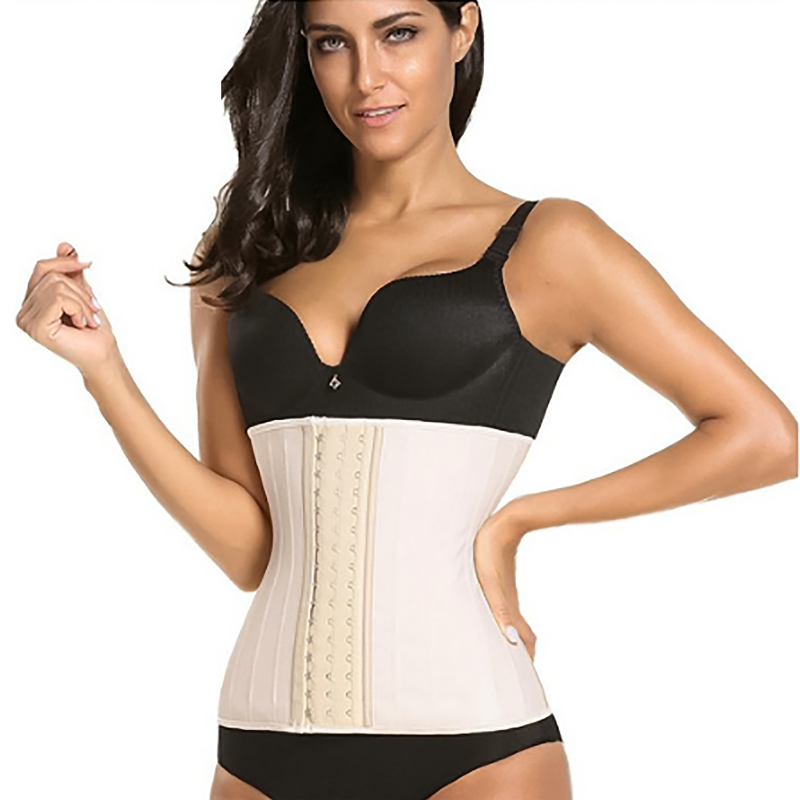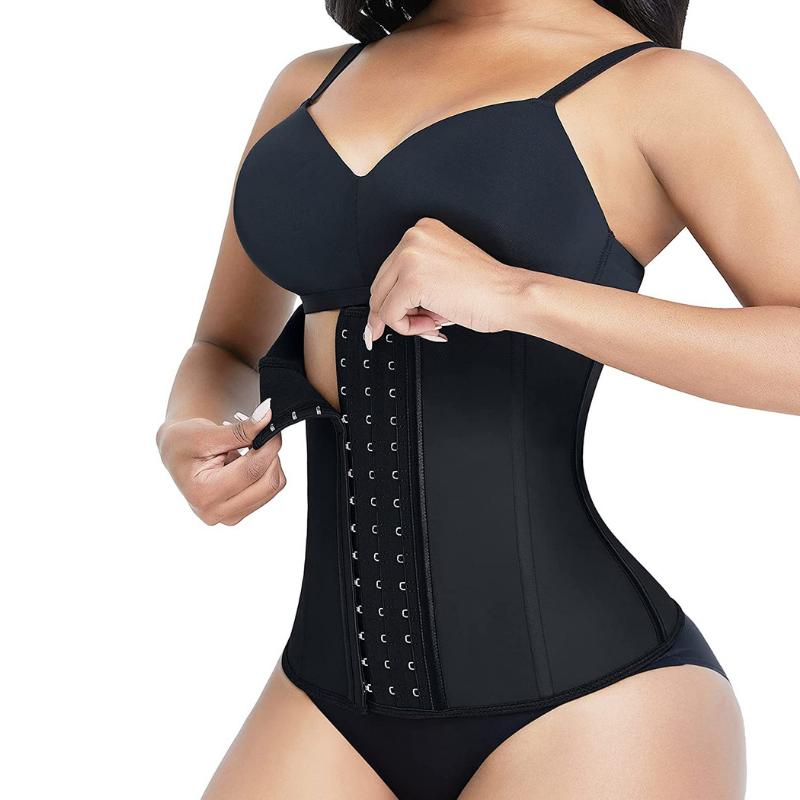 Yay!!! I love this!
I originally purchased a size 4x. The 4X was waaay too big. I have a 40 inch waist...38 inches if I hold it in a bit. I weigh 175 and I am 5 foot 7 inches. I am 6 months postpartum. I went by the measurements listed, however the waist trainer gapped in the front, with the final loops connected. I would say...make sure that you go down a size. The majority of my weight is in my stomach area. I am a true apple shape. I have a 42 inch...nonexistent hips after two pregnancies. I have lost 73 pounds since giving birth. I have hit the dreaded weight wall. I hope this helps break through the plateau. I will follow this review with pictures...hopefully after weight loss.
My larger ladies: Please read, then buy!!!! :-)
Ok ladies, lemme say this first: I have been anti-shapewear, cinchers, trainers, etc for years. I have always believed that if you don't look like that with your clothes off, then why bother? I purchased this hoping that it may actually train my waist on top of making healthier choices of course. But with a shape like mine, I was pretty certain it would not fit. What I mean by that is that I am extremely hippy and my lower stomach is pudgy. Let me just say: I WAS SO WRONG!!! This fit and snatched ALL of my mid section up like magic. I know some complain about the length...I am 5'3 and it PERFECTLY fits from beneath my boobs to right above my kit kat! I broke a sweat putting it on the first time, but it is super comfortable once you get it on. I would recommend ordering a size larger if u can for that perfect fit. I am able to sit and bend in it relatively easy! It does not roll down or cut into my skin either. I saw very few reviews representing the larger women so I knew I needed to post this. The pics are all with the waist trainer on btw! I wear a 22/24 in jeans and I got the 6x. Idk if I'll wanna wear this all day but I will definitely sleep in it. I hope I can see some results with this...so far so good though! Ladies please give this a try!!!
My measurements listed for reference
I was excited to get this in the mail. I wore it for the afternoon at work just to see if it was comfortable before beginning to workout in it. It was very comfortable, soft, and helped with my posture. I got a medium. I am 5' 4" and weigh about 127 right now. Measurements: chest (under boob): 32", waist: 30", hips: 36". I also measured my pudge/love handles, which is my problem area, also about 35". Hope this helps someone. To me, height and weight alone don't really help because weight is distributed differently for everyone. Tip: lay down on the bed to put it on. Also place a pillow under your head for support in trying to see what your doing instead of straining your neck.
Accentuates backfat, made me sick
(Edit:)
I went on Youtube and discovered a trick that works TREMENDOUSLY for minimizing backfat/armfit fat when wearing a waist trainer! If you only hook every other hook as opposed to all of them, it greatly minimizes the look of those god-awful rolls those of us with a little bra bulge get when we wear waist trainers.
I also wore my trainer to work for 10 hours yesterday- keep in mind that I actually work for Amazon in one of its warehouses and it did not bother me all day. I'm not sure why I had stomach discomfort while wearing this the first time but now I love it!
I was super excited to finally purchase one of these waist trainers. I am 5'8, 190 pounds. I naturally have an hourglass figure but have a bit of a tummy.
When I first put this trainer on I felt and looked great- until I looked at my back and noticed my fat practically pouring over the top of the trainer. Normally I don't have any rolls but this waist trainer gives me MEGA bra bulge. What's worse is that if I attempt to remedy the situation by pulling the trainer up then it won't cover my torso.
Another huge downside was the abdominal pain I experienced after using this trainer for just two days. I had to take it off because of this odd pain in my stomach. Whether or not it was stomach acid being pushed into other parts of my body I can't say for sure. I just know that I'm stuck with a waist trainer I can't wear out because my back looks like Play-Dough being squeezed into a tube and because I feel like throwing up after just an hour of wear.
AMAZINGGG
I legit NEVER write reviews, even if it's bad but THIS, THIS!!!! Most amazing thing ever. I got the short torso one in M I'm 5'4" 140lb and I think the length of my torso is 12" or less. I've only had one waist trainer before from 5 years ago maybe. Thing was always too long, poking my ya know, and the oddest part, it would like push my stomach out instead of compressing it, looked like I was pregnant. I got decent side results from it but it was latex garbage. Thin, the boning moved, NOT THIS I TELL YOU, granted I've only had it on for 15 mins but I feel more comfortable than I ever have. Perfect length: true to size BUT REMEMBER you're supposed to start off on the first "loosest hook" so don't be afraid if you think it isn't going to fit, I usually attach the bottom one or two then start attaching from the top and undo the bottom ones and continue down. I have no idea what this material is, there isn't much stretch in it so knowing your measurements is key!! ( I bought it according to my measure being closest to the max size of one) but the fabric is soft and comfortable and doesn't move. Thanks for making my Monday